11 Corporate activities that you haven't heard about #EMC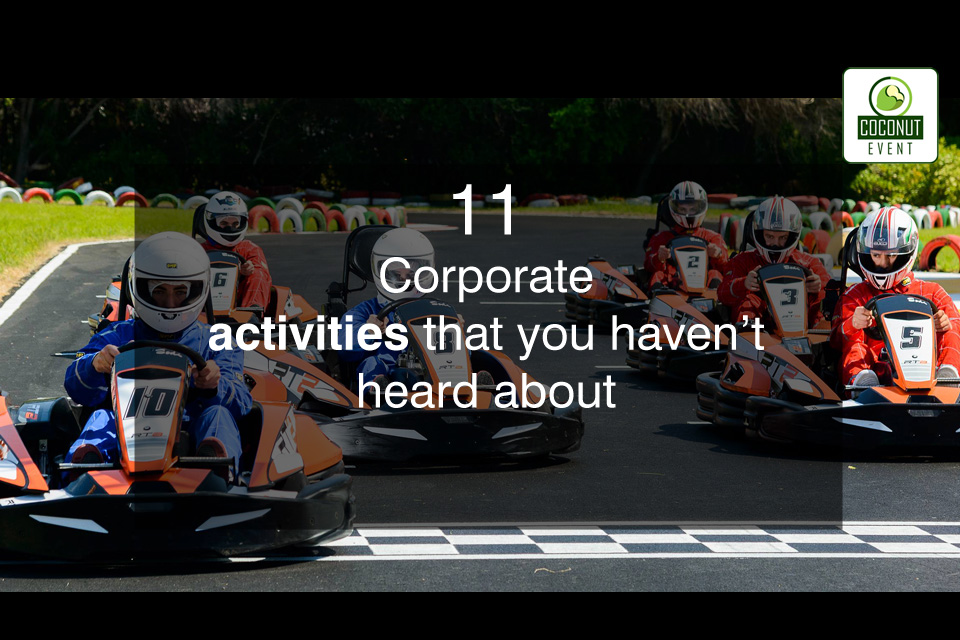 People read corporate events and they imagine a suit, a tie, a briefcase and a long acceptance speech. To make sure that the event you organize does not fall under the same category here are some of the activities that you could use in your event.
11 Corporate activities that you haven't heard about
---
#1 Volunteering for Social Work
An event organized to make sure that the employees' take part in social work voluntarily. To organize such an event one needs to make sure that the entire theme should be based on a cause and the brand of the client to make sure that the efforts put in by the employees are highlighted.
#2 Dinner
In order to thank the employees for their services, some organizations throw a dinner party for them. Such events should make sure that the employees are served and catered with the best food which holds a reputation for the organization that they're working for.
#3 Indoor Games
Indoor games are the best way to get all the employees involved in an event the fun and challenging environment creates team bonding and helps create a fun getaway for a corporate event.
#4 Go-Kart Racing
A go-kart racing event is one of the most competitive and fun events that can be carried out with a whole lot of ease and finesse if done correctly. To make things more interesting you can also organize a theme based go-kart race which involves a lot of funny pictures grabbing moments as well.
#5 Carnival Visits
Every city has a carnival that holds up every now and then by making sure that the organization part takes into such an event have a great time by building stalls and also helping them work on their brand reach towards their customers as well.
#6 Karaoke Night
Listening to a professional singer sing in a concert is enthralling however, listening to your loved ones stumble while they read and try to sing their favourite songs is funny and sometimes surprising. (In case they figure out that one of their colleagues poses talent) Such events help build filler spot in an event with most memorable moments.
#7 Road Trips
A souvenir in the form of memories is how I describe a road trip. Everyone still remembers their road trips doesn't matter how long and how far it may be people still recall their road trips like it was yesterday. A lot of organizations have people with vehicles and to have such an event would bestow memories for them.
#8 LAN gaming tournaments
LAN gaming event is one of the most relevant ways to grab attention for your event. Almost every millennial has a soft corner for gaming and to witness and participate in one of those tournaments can be crowd pleasing.
#9 Face Painting
This activity can create wonders for your event by making sure that a lot of pictures are clicked and the event can never be considered dull if there are people with superhero face paint walking around.
#10 Cook-Off
An activity that makes your taste buds involved. A cook-off with innovative stipulation helps an event with attention by the spectators.
#11 Sports tournaments
What could be more entertaining than watching your favorite sport played by their colleagues? Well, the answer is nothing, this activity will make sure that the event would last for a long time and would help promote team bonding, team building and also the sponsors involved could provide some branding to the event.
By Coconut Event, an event management company in Mumbai.