8 types of Corporate Events that you need to know #EMC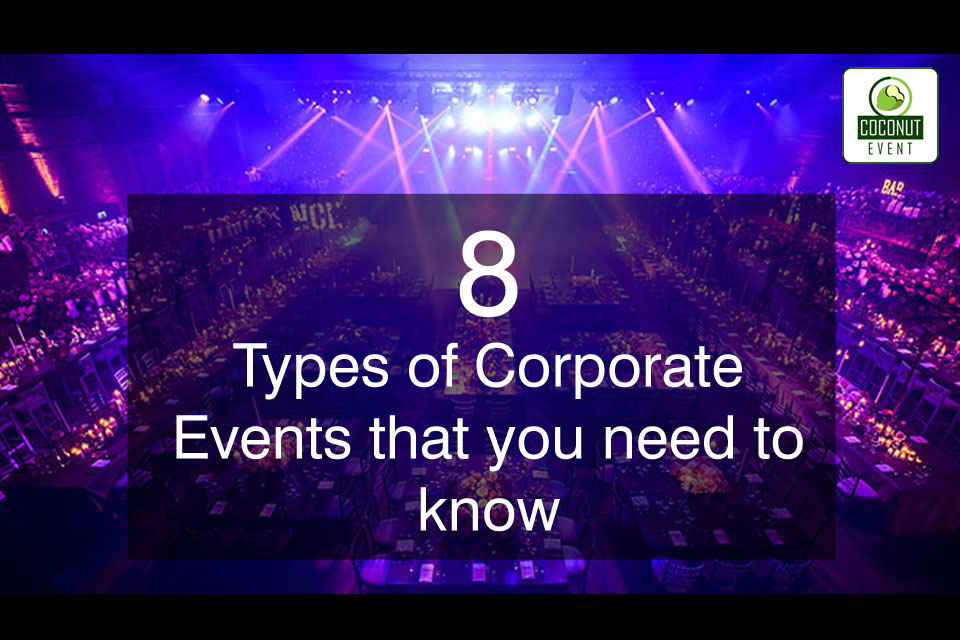 Event management by definition:
"Event management is the application of project management to the creation and development of large scale events such as festivals, conferences, ceremonies, formal parties, concerts, or conventions. It involves studying the brand, identifying the target audience, devising the event concept, and coordinating the technical aspects before actually launching the event."
- B Miller, D Breiter, BJ Reed & A Rushing
The above definition clearly states how 'Event management' is to drive the entire event with sheer planning and all the other derivatives involved in systematically arranging all the crucial factors to manage a successful event.However, I guess we had a gist of what event management could be. This blog is about how to carry out a successful event.Let's answer some of the most frequently asked queries in order to carry out a corporate event.
In order to know what are corporate events we need to know the different types of the same to have an in-depth analysis for the same here, are just to name a few.
8 types of Corporate Events that you need to know #EMC
---
#1 Conferences and Seminars
A conference or a seminar is an event conducted for people with shared interest where the people would love to concentrate on the meeting and the discussion being held. As a result, the event that is supposed to be organized needs to make sure the venue provides enough privacy, extremely less involvement from the organizers which could distract the folks holding the seminar or a conference.
---
#2 Trade Shows
A trade show is an exhibition to present and promote one's products and services where the event should cater two types of people namely visitors and promoters and should organize the event in such a way that the visitor should have an easy access to the products and services which are being displayed by the promoter.
---
#3 Corporate Retreats
Corporate retreats are a company sponsored events which are held to get the employees out of the mundane and cyclic routine of work. To manage such an event the event planner should have a vision which caters to the employees and make sure that the plan involves lot of fun activities to draw attention towards life and help them capture memories that they can cherish for a very long time.
---
#4 Felicitation Events
A felicitation event is basically awarding the outstanding personalities in terms of their work with certificates and trophies. Now, here to identify the different parameters to deal with while organizing such an event is a bit complex. Rather than focussing on people the main focus should be upon deadlines and planning as everything requires a certain amount timeline to be performed which includes from handing an award to filler spots in between felicitation.
---
#5 Company or Organization Achievements
This type of event is held quarterly, half-yearly or annually to boast about the achievements to let the employees know about the present and future of the organization. Which only means the organizers need to cater a large group of employees, management a stage for host of the organization to address and so on.
---
#6 Team Building Events
Team building events are held to help create a bond between the employees so that they respect each other and have a better understanding about their colleagues. To cater such kind of event one should make sure that there are lot of activities which would require team effort. The activities may include indoor/outdoor games, competitions and sport events.
---
#7 Product Launch Events
A product launch event is when a company decides to launch a new product in the market. It can be an existing product which is already in the market or it can be a completely new innovative product which the company has come up with. Here, one needs to make sure that the lights and the event should focus on the brand and product itself and should come up with innovative ideas to promote the same physically at the event.
---
#8 Board Meetings and Shareholder Meetings
A board meeting and shareholder meetings are intensively privy towards their conversation being held. Such meetings require planning that can make sure that the corporate meeting being held between shareholders and or board members are carried out with thorough confidentiality with less interruptions.
By Coconut Event, an event management company in Mumbai.